Best Messages/Sms/Wishes/Greetings for Happy New year 2069
2012-03-30
Across the web there are tons of greeting , wishes for welcoming new year . There are many ways for expressing your feelings for near and dear ones, partners , family , brother sister and else. For me , I have listed here my best message for welcoming new year 2069 B.S. All the messages are not composed by me .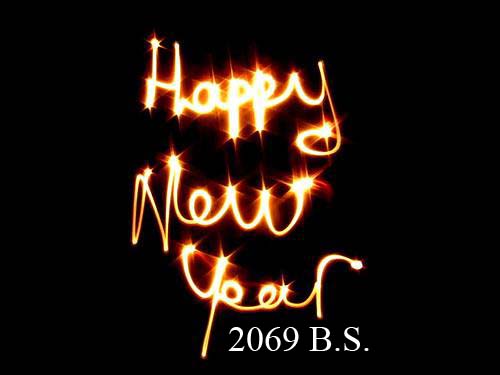 New Year begins, Let us pray that it will be a year with New Peace, New Happiness and abundance of new friends,God bless you through out the New Year.
RENEWAL OF FRIENDSHIP CONTRACT 2069 After serious and cautious consideration, your contract has been renewed…
One Glass Water, One Glass Beer, Oh M? D??r, Lucky N?w Year 2069 B.S.
A New Beginning "Behold,I make all things new." "Happy New Year 2069"
In "The Universal Bank of God" God stores his blessings and deposited 365 days full of love,faith and happiness for you.. So,Enjoy spending Happy New Year 2069 B.S..
2069 is at the door…Remember Life is short, break the rules, Forgive quickly, Love truly, Laugh uncontrollably, and Never regret anything that made you smile… Happy New Year
I wish a wish for U, the wish I wish for few… The wish I wish for u is that ur all wishes come true… So keep on wishing as my all wishes r with U….. Happy New Year 2069 B.S.Friends
I Wish in this new year 2069. God gives You.. 12 Month of Happiness, 52 Weeks of Fun, 365 Days Success, 8760 Hours Good Health, 52600 Minutes Good Luck, 3153600 Seconds of Joy…and that's all!
New is the year, new are the hopes and the aspirations, new is the resolution, new are the spirits and forever my warm wishes are for u. Have a promising and fulfilling new year. Happy New Year 2069 B.S.
Ring out the old, ring in the new, Ring, happy bells, across the snow: The year is going, let him go; Ring out the false, ring in the true
Beauty.. Freshness.. Dreams.. Truth.. Imagination.. Feeling.. Faith.. Trust.. This is beginning of a new year! Cheers 2069 B.S.