Life In FMC Technologies as a Summer Trainee
2013-09-12
I feel honored to be a part of FMC Technologies. I was very excited from the day I was selected. I want to thank from the bottom of the heart to Brede and Mia for selecting me as a worthy candidate for the position of "Autonomous System Technology". It was my first industrial experience, the journey which started from 8th June.
After finishing my final exam of second semester, I had started packing. I left Porsgrunn on 8th June and reached Kongsberg in evening. It was my first visit to the town and my room was in Sandsværveien, bit far from the train station. I was unable to find the place where I was supposed to be. A guy showed me whole way later; many thanks to him. I did nothing on that day and was just waiting for Monday.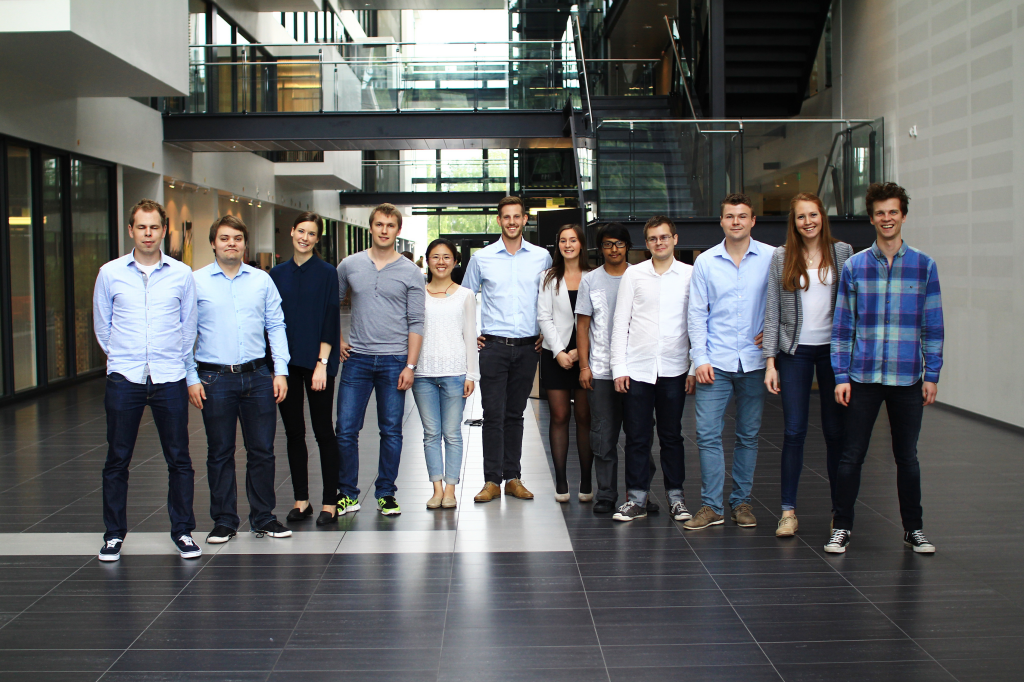 FMC Technologies Summer Job Trainees 2013
First Day
I headed towards FMC which is only 7 minutes away from my place. I thought I was too early. I didn't find any other friends. But soon everyone joined one after the other. I was confused that they were also summer trainees because they were standing in the corner next to me. I am very poor at recognizing people seeing their pictures. So I thought I should wait for Ingvild to come. Few minutes later Sondre came towards me and asked if I am also a part of STTP. So he told me to join the group. After some time, we all candidates of STTP program were taken into the hall for the presentation. The presentation was initialized by Brede Thorkildsen. He described the overview of the program. Then we (STTP candidates) gave brief introduction of ourselves and our task.
Now it was lunch time. Mia took us to make company identity card. She also showed Fitness center and other different resources of the FMC Technologies in the premises. It was nearly evening after finishing the official work. We had dinner near Kongsberg Technology Park. This was my first Norwegian dinner. I did not remember the actual name of the dishes served, but I did enjoy the dinner including the explanation of every food item by the owner. We had some photographs during the dinner time as well.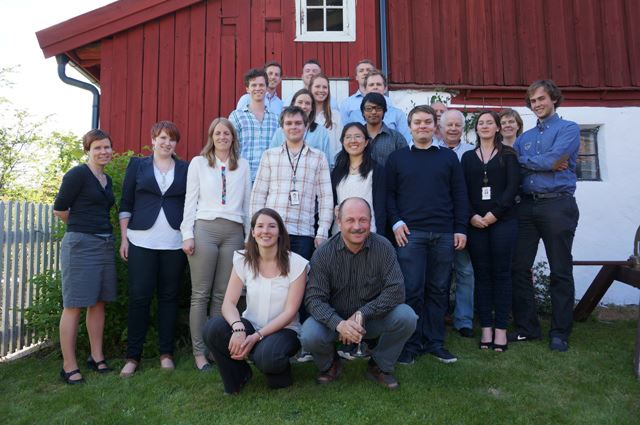 Dinner Time !
First 2 weeks
The first two weeks were a bit hectic. The task was very new for everyone and all were trying to understand what to do and where to start from, with different strange ideas on mind. We had several training essential for Subsea. The training helped a lot for everyone. Most of us were new to Subsea Industry and now we have come to know the terms and technologies used in this industry. The presentation of Condition and Performance Monitoring was the best presentation for me from which I learned a lot.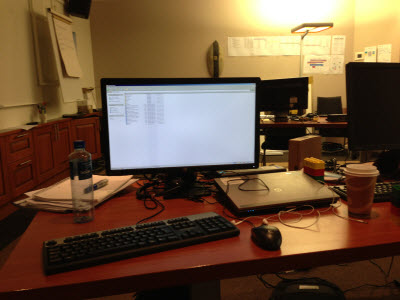 My Work Machine
The next half day of these weeks was utilized to get the overview of task. In the second week, I started with some ideas on where I should start the project from. Basically all of us started literature review on our task during this week. We had to present our findings/solutions every week which we call "Weekly Progress Meeting". It was good to present our findings every week. This helped us to know about the whole group task.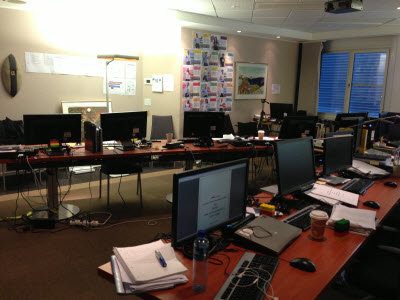 V-Room (Our Work room)
Memorable Moments
5 Minute Break
The credit of 5 minute break goes to Arne! He started the trend. It made our mind fresh and working. According to Arne, he was scared at the beginning. Then after couple of weeks, it became necessary for us. We used to go outside with a cup of coffee, sjokolade, water or with fruit. We used to make fun of each other during that break time. In the initial days, we used to stay just in front of the canteen. After it became famous, we changed our place little bit far from the workplace to get some warm sun. I think the most talkative mouth during the break was Sergey's. He mostly described himself rather than listening to others during the gossip. Next is Antonio, the party animal guy from Bolivia who mostly talks about parties. Xueying generally gossips about the super boy (it is a Chinese Singing Competition). She used to shake her mobile and let me do it for couple of time as well. That was the process of voting for the super boy! Arne talks normal stuffs. In between the gossips, we used to make fun of each other using the word 'racist'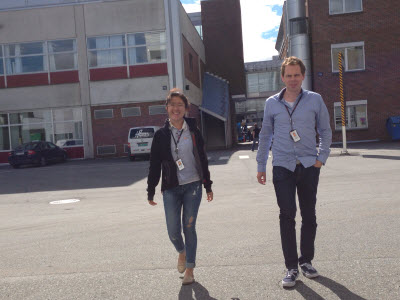 Xueying and Arne Coming Towards Break place :)
International Cooking Evening
It was in one of the weeks. Initially it was planned for only 4-5 people. Later, others were also interested and then we thought to have it in Frogs Vei. We had left office early on that day nearly at 5 pm. I was planning to give chicken dish with Nepali taste. We went to buy chicken, some Nepali ingredients and some potatoes. Xueying bought some stuff for her Chinese dish. And also we bought some beers and cold drinks. We reached at 6-6:30 pm in Frogs Vei. I started making pieces of chicken with Xueying's knife (which later became blunt and Xueying got little angry for that). I prepared chicken twice because of the pan being small. Also, I made some fried potatoes. Then after a while, we all gathered outside and started eating. All of them loved my chicken. We were gossiping on different topics drinking beer. I remember the gossip we made on the types of coffee and bread consumption in Norway. Also it was interesting to know some facts about the process of making beer from Jon Thore. The most interesting topic of the gossip for me was the Cow Farm as explained by Jon Thore. Robotic Cow Farm! Around 10 Chinese guys left Frogs Vei. Then rest of us went to Arne's Apartment and start drinking and making conversations until 12.
Weird Fishing Day
This was on Saturday. Antonio and I had planned for fishing. We both are newbies on the activity. We didn't know where to find fishing spot in Kongsberg area. I checked maps but didn't find any perfect location for fishing. So we thought to do fishing the river without any idea. We headed towards the river at noon after buying some groceries for Antonio and some food (bread) for fish. We asked couple of people nearby the river where we can find fish. But nobody knew the exact spot. Then we decided a place anyhow. It seemed the place was made for fishing and swimming. We prepared our fishing kit. At first we laughed at each other, since neither of us knew exactly how to use that fishing kit. We had thought it would be easy to use it. Anyway we managed strings and put some food on the kit and threw it into the water. We tried for an hour but didn't have any luck to get fish. So we gave up fishing and returned back to our room. It was weird day.
Dumpling's Day! (Chinese so called Mo: Mo)
Since I left Nepal last August, I was dying to eat Mo:Mo. I am very much grateful to Xueying, Chencui and Lidong managing this especially for me. We gathered at around 6 in Xueying's Place to prepare dumpling. Lidong started giving some solid shape for powder flavor. I cut the Chinese cabbage into small pieces. Xueying and Arne also did the same. Chencui was busy preparing other ingredients. And Antonio with the help of Arne prepared pasta. First we ate some pasta, which was very great. Soup was very tasty. Then Lidong put dumpling into the hot water. It was little bit different as we used to prepare in Nepal. We steam the dumpling in Nepal, and prepare some special soup for Mo:Mo. But for dumpling vinegar is sufficient. The taste was really good and very different with the vinegar. After some time, the Chinese group suggested playing some game. The name of game was "Ghost" using Iphone App. It was my first experience playing such kind of game. We need to explain the words as given by the application. The word is similar to citizen and ghost. Everybody started explaining and after one round we went for voting and same process repeated. I am very grateful to Xueying and her friends.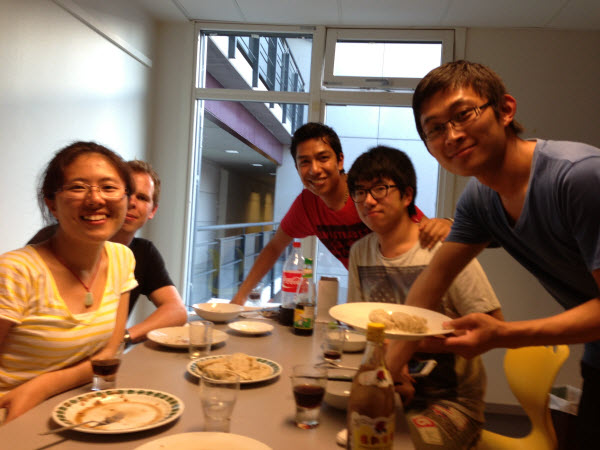 Dumpling Makers !
Antonio Trying to Pick up Dumpling with Chopstick
Silver Mine Trip
The Silver Mine Trip was on the final weekend. We were only 7 visiting there. We had a new friend joining the trip. Sorry that I cannot remember her name now. Actually we had planned to walk the other day. But it was Xueying who changed plan to go by bus for the sake of her Super Boy. So we went to silver mine with bus at 10.15 am. We bought tickets but had to wait train for 12.00. Till then we went here and there to the mines nearby. Then we played Chinese "Ghost" game for another time. It was 12 when we picked up a train and went inside tunnel. It was cold. Antonio and I were in shorts. While we were moving deeper, the cold only increased. We followed one lady who was explaining history of the mine industry. After following the lady for an hour, she told it's finished. To sum up, I didn't find anything interesting that clicked my mind inside that tunnel. We took some photos and just came from the same train. Now we planned to walk but Xueying and Chenchui were the two who went by bus only to catch their super boy program. On the way towards our home, nothing special happed. Sergey was the only one who seemed happy and he was sticking with the friend of Xueying friend who had joined our trip. Both seemed talkative. It was raining after we finished half the way.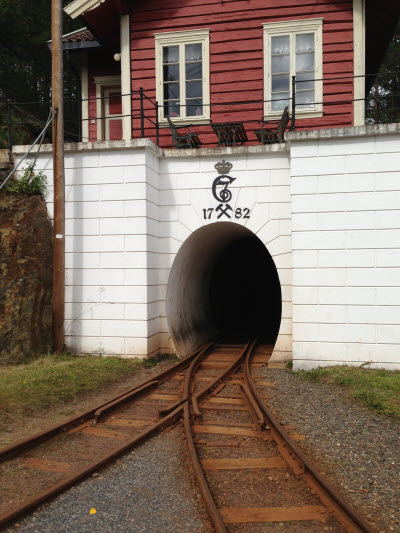 Silver Mine Entrance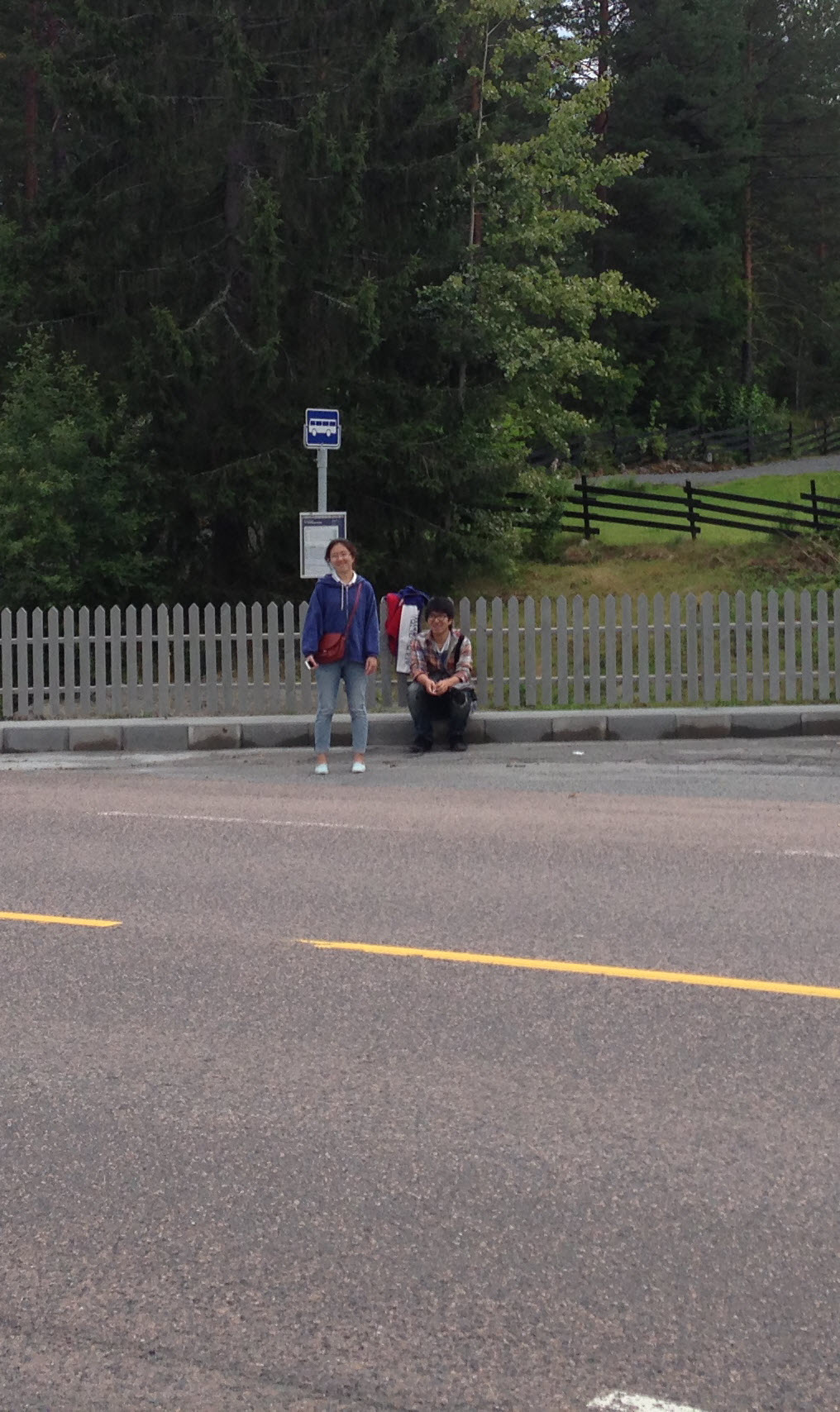 Xueying and Chenchui
Final Weeks
The final two weeks were a rush. We had lots of report writing and deadlines. The animation video seemed to be perfect for which some of my friends worked all night for couple of days at the weekend. All of us worked in a group. Everybody was busy finalizing reports, proofreading, for animations and getting ready for final presentation. In last week, most of us spent time on practicing the presentation individually and in group.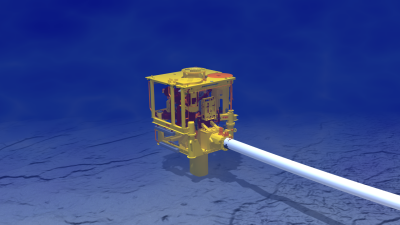 Busy in preparing Animation: This one is Subsea Tree
Final Presentation Day
Yeah, it was on 16 August. After the hard work of 10 weeks, it was the day for final presentation. All of us arrived nearly at 8 am. The final presentation kicked off at around 10 and went on for nearly 1 and half hours. All of us did amazing job presenting. It seemed professional and we didn't face any technical problems. All mentors and chief persons of FMC were happy to see our final result. They told that STTP members' result were higher than their expectation.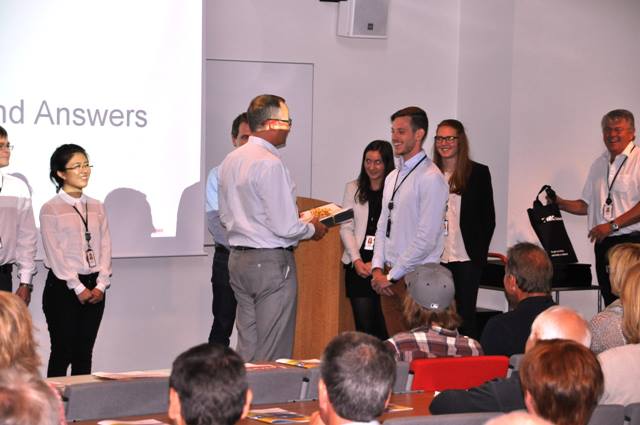 Thomas submitting Final Reports
Final Words
It was great, exciting and I could learn a lot during 10 weeks, and made many good friends. I am very much thankful to Eirik for his continuous guidance and support. Also, I can't stop thanking to my friends and other mentors.
Thank You FMC for giving us this wonderful opportunity!
The Application / Concept I developed for my task can be retrieved from here. http://nepallica.com/fmc/
Million Thanks to My Friend Dewa :)